Red Bull races the Formula Face
Via Scoop.it - PC, Console and Mobile Gaming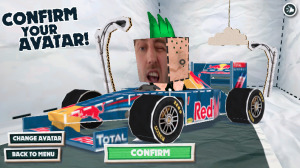 It seems like Sebastian Vettel continues to dominate the real Formula 1. Now Red Bull sets out to gain pole position in another kind of race: doing the best browser racing game with facial expression controls. Gentlemen, start your engines please.   In Red Bull Formula Face, the user controls a racing car using their webcam. Face-tracking technology recognizes facial movement as well as the user's facial expressions. Thus, the user can start a turbo boost by blinking, steer by tilting their head, activate a variety of specials by grinning and by making faces, trigger so-called photo-bonuses.  
►Mini Matmian: Quite like the cardboard style and manner by which it uses a cube structure for the UGC is a nice touch.
You will need Shock-wave plug-in installed for this. I would have liked to seed what they could have done with the Unity3D engine but that's a personal preference.